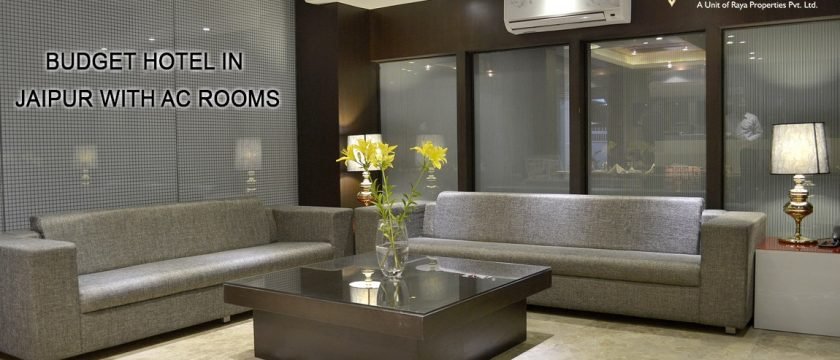 Budget Hotel in Jaipur with AC Rooms
Jaipur has the extraordinary potential of the travel industry from everywhere throughout the world. It just does not give a look at Indian history and culture but is also a visitor's heaven. Thus, when you visit this city, ensure you keep some time aside for shopping separated from touring. With a wide scope of gems, handworks, textures, and precious stones accessible, shopping is excessively enticing in Jaipur. Make sure to go down the local markets and streets for the best shopping and book your stay at a good Budget Hotel in Jaipur with AC Rooms.
BOOK THE BEST BUDGET HOTEL IN JAIPUR WITH AC ROOMS
The Luxury Budget AC Hotels near Station Road Sindhi Camp, Raya Inn is precisely designed, to take care of all the necessities of all kinds of travellers. The whole ambience is bounded with relaxation, calming music and fragrance which is just mesmerizing. Patrons can enjoy their visit to the walled city of Jaipur which is recognized as a World Heritage Site by UNESCO and is known for its exciting history & scenic beauty which is located at a distance of just 2.4 km from the hotel and is easily accessible by any public or private transport, guests can also book a personal taxi from hotels 24 hrs. The travel desk facility is available 24*7.
To serve the ultimate comfort and boundless leisure, the Budget Hotel in Jaipur with AC Rooms offers facilities like round the clock room service, power backup, banquet facility to host various business and social events, quick laundry & dry-cleaning service & travel desk to make tour arrangements. The doctor on call facility ensures the health safety of patrons. As the people are still going through COVID 19, our first motive is the health of our guests, we follow complete sanitization in our hotel. Our staff takes care of proper hygiene as well the chefs of our hotel are very careful with the quality of the food served. The friendly and efficient staff ensures a comfortable stay for guests. Guests without a hustle can pick souvenirs from the hotel's Gift Shop. You can also book Budget Hotel in Jaipur with AC Rooms, The Raya Inn online through this link: https://www.rayainn.com/
PLACES TO VISIT IN JAIPUR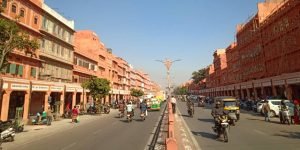 Johari Bazaar is the most well-known market in Jaipur and in the event that you have a wedding coming up in your family, this is the spot to shop from. From wedding lehengas with tie and colour, hand weaving, reflect and Kundan work to beautiful and delicate pieces of jewellery and you can search for everything of your choice here. You can trust the stores for legitimacy to buy precious and semi-precious stones and this makes it perhaps the best spot to shop at for gems. Johari Bazaar is additionally an unquestionable requirement visit for Laxmi Mishthan Bhandar, the most famous sweet shop in Jaipur.
Valuable and semi-valuable stones can be found in bounty and you can confide in the stores for legitimacy. Each eighth precious stone on the planet is, actually, cleaned in Jaipur. 
If you are in Jaipur, at that point you can't miss shopping at Tripolia Bazaar, probably the best market in Jaipur. The bazaar is between Manak Chowk and Chhoti Chaupar. Regardless of whether you are here for shopping or walking around the market, you will never get exhausted. Maniharonka Rasta is the major attraction of the bazaar, which is renowned for its valuable jewels and carpets.
The Tripolia Bazaar is generally famous for its LAC jewellery and intricately designed bangles. You can find bangles of each shade size and colour here. Materials also including Bandini and other colour textures weaved complicatedly can be found in here.
Overwhelmed with pattern design things with a customary touch, for example, the mainstream Bandini tie and colour textures with rich weavings that this Bazaar will stagger. You can also purchase floor carpets and other customized products.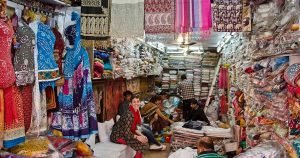 Bapu Bazaar is known for its leather items and Mojari shoes (acclaimed Rajasthani footwear produced using camel leather). Different shops here sell materials, handworks, crafts, scents, lehengas, saris, sandstone, and so forth. It resembles an across the board showcase with an assortment of things to shop. This is one of the most celebrated markets in Jaipur.
The territory is mainly famous for its Jaipuri quilts, rajastháni mojris, traditional textiles, bandhej work, block prints and a wide range of artificial accessories.
The Chandpole Bazaar is the place you will discover perhaps the best making-of Rajasthani creatives, carvings made of marble and other material items. Khazanewalon Ka Rasta, mainstream for traditional things, is another site for indistinguishable things from wood carvings and stones, floor coverings, turbans. In case you visit this Bazaar remember to purchase the marble moulds that come in all the structures. Shoppers can indulge in a shopping spree at various local markets in the walled city.