Buy Best Jaipur Handmade Leather Goods – Famous Jaipur Handicrafts
Jaipur Handicrafts are popular all over the world. The skilled craftsman of Jaipur has used their artistic talents to make these traditional handicrafts. One such thing is Best Jaipur Handmade Leather Goods that you can't afford to miss. Shopping is the best activity to be indulged in and to buy Famous Jaipur Handicrafts to visit the local markets of Jaipur.
Read on to enlighten your shopping interests!
Famously known as the Pink city of Rajasthan, Jaipur is a city of art and culture in the midst of its colorful and lively experiences. The City is known for its handicrafts and serves as the commercial center. Visitors here enjoy and jump around the corners of the city to explore every bit of it. And shopping is the perfect thing to include in your bucket list. The traditional Bazaars of Jaipur would leave you awestruck by the artifacts you get to see there. And undoubtedly… Famous Jaipur Handicrafts also includes Best Jaipur Handmade Leather Goods from which you can't take your eyes off.
Buy Best Jaipur Handmade Leather Goods
Jaipur Leather Industry presents you with a wide range of leather items that are being displayed in the local markets. The artisans and craftsman Put their talents and skills to design some fashionable leather products. While heading to these markets, visitors get attracted by the bags, purses, handbags, shoes, luggage bags and many more. Even you find various mini- mega useful items like keychains, coin cases, mobile covers, waist pouch, hats, and horse saddles. If you are fond of diaries, one peculiar leather product is just made for you… the leather Journals. They are somewhat expensive but gives a vibe of heritage, and so worth the price.
How can I forget about juttis, mojaris purely made of leather to comfort your feet? The embroidered mojaris are exported all over the world and weaving designs on juttis with beads and pearls are done by artisans to be worn at festive seasons and occasions. Embellished colorful jutties are handmade and sewn carefully before getting to stores.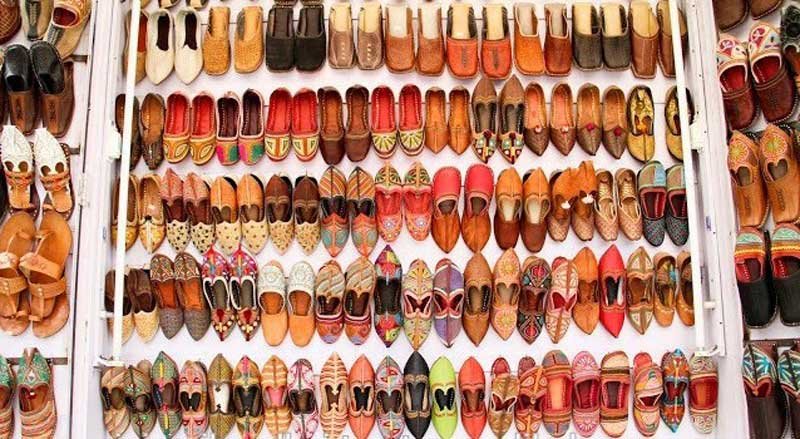 Mostly this manufacturing of leather goods is considered to be the legacies of the family business, where generations are trained particularly to learn the art of craftsmanship. Skilled artisans put all their efforts into the long and tedious process of making goods. Both men and women put their mutual efforts from the beginning into tanning, cutting, sewing, designing and delivering their amazing products into the markets. To meet the expectations of global demand, the artisans keep on working for new designs that can lure the buyers maintaining the blend of creativity and authenticity.
From Where to Buy Best Jaipur Handmade Leather Goods
The major markets include Bapu Bazaar, Ramganj Bazaar, and Nehru Bazaar where you can find a variety of Famous Jaipur Handicrafts. Badi Chaupar in the old city part of Jaipur and its nearby market would assure you to find a range of handmade products. The shops near Hawa Mahal are bestowed with the authentic leather goods. There are some handloom houses too that offer you Jaipur handicrafts at a reasonable price. These leather goods perfectly serve the purpose of gifting to kith and kin.
So, are you are ready for some leather goods from Jaipur?
Traveling to Jaipur for exploring the beautiful attractions and traditional markets of Jaipur...Book the Best Budget Hotel in Jaipur at www.rayainn.com and experience the wonderful services for a pleasant stay.